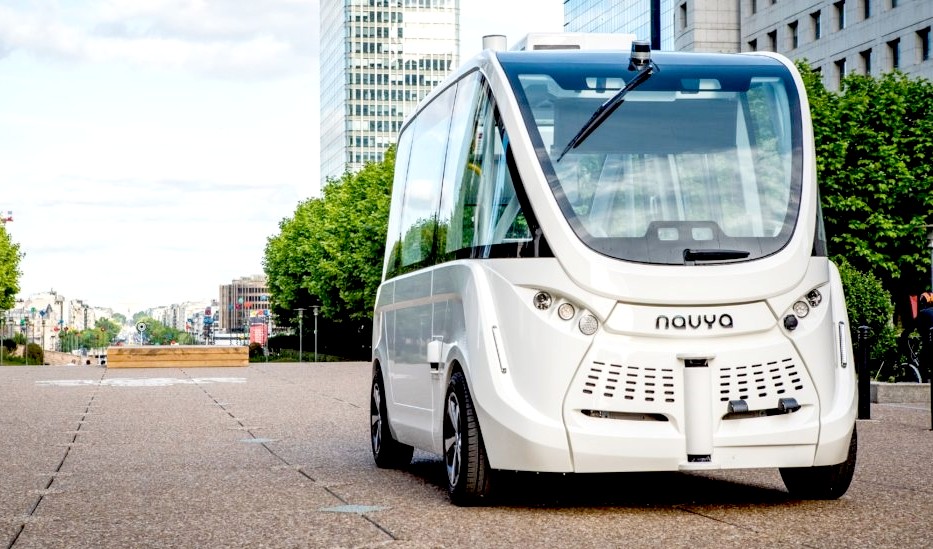 SILICON RUSH - Self driving trucks for freeway haulage logistics is all the rage at the moment for investors looking for the latest digital gold rush. Zoox, Cruise, Kodiak joins Pony.ai, Pronto.ai, Didi Chuxing, Waymo, Aurora, TuSimple and AutoX as they look for the elusive holy grail of AI on the road, somewhat blowing wildcard Tesla into the weeds. You can read more about these companies and the media coverage, and reviews, on this site. Even with the green hydrogen revolution taking place all over the world, there is as yet no energy vending system for these autonomous vehicles. It's competition as usual, in a world calling for collaboration.
Self-driving cars and trucks may drive themselves, but development is driven by economics. They are forecast to grow exponentially in the next two decades. How we deliver goods, the ownership of personal vehicles, ridesharing, public transportation – these all will take new shapes as self-navigating electric vehicles (AEVs) accelerate.

Cities, utilities, industry players and policymakers are quickly scaling to deliver on AEVs, which promise to be safer, faster, more cost-effective, and cleaner for our health and environment than yesterday's mobility systems.
IMPAKTER 15 OCTOBER 2018 - NAVYA AUTONOMOUS & ELECTRIC VEHICLES

What is the future of mobility? According to NAVYA, an innovative French company, it is both autonomous and electric. The benefits of such technology in terms of mobility are incredible. Whilst using electric propulsion reduces CO2 emissions, autonomous driving should reduce traffic congestion and could also be an innovative way to have more efficient public transportation.

It is quite a busy moment for NAVYA, who became listed on the stock market last summer. It is currently producing one vehicle and is about to start road testing its second one. To learn more about these exciting projects, we speak today with NAVYA's CEO, Christophe Sapet, to ask him some questions about his company and his vision.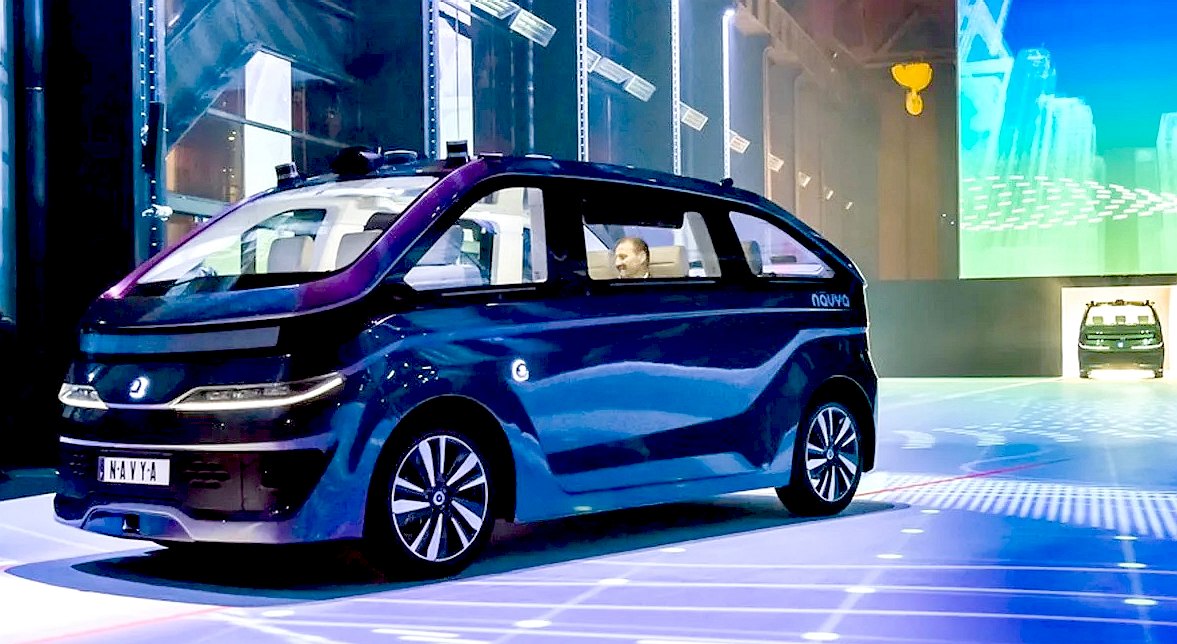 DUBAI RTA - In the city or on a private site, the autonomous shuttle conceived by Navya is an intelligent, innovative, effective and clean mobility solution. Autonom® Shuttle Evo guarantees autonomous transport performance as well as a comfortable trip for the first and last mile, thanks to its gentle navigation.

Capable of transporting up to 15 people, Autonom® Shuttle Evo combines a number of advantages. Autonom® Shuttle Evo fleets make it possible for operators to improve productivity on private sites, and ease road congestion in urban centers. Passengers also enjoy a pleasant trip while making the most of their travel time.

Navya won the « Best Endurance & Reliability » and « Best Consumer Experience » awards at the first world challenge organized by the Dubai Roads and Transport Authority (RTA) dedicated to the actors specialized in autonomous passenger transportation on limited routes – first mile/last mile – at reduced speed in an urban environment.

What is the story of the NAVYA?

CHRISTOPHE SAPET: Since 2015, NAVYA has been the first to market and put into service autonomous mobility solutions with its autonomous shuttles, and NAVYA is now providing shuttles and cabs. NAVYA has a range of two autonomous vehicles: the "AUTONOM SHUTTLE" – launched in September 2015, produced in more than 100 units as of today and 89 sold in 17 countries including the United States, France, Germany, Switzerland, Japan and Australia – and the "AUTONOM CAB", unveiled in November 2017 whose first road tests will start by end of 2018 in France (Lyon) and Australia (Perth).

On July 23rd 2018, NAVYA made a successful entry onto the stock market (Euronext Paris regulated market) raising approximately 37.6 million euros by issuing new shares. On the basis of an offering price of 7.00 euros per share, NAVYA's market capitalization amounts to approximately 190 million euros. The company has since signed a 30 million euros financing agreement with the European Investment Bank– EIB – which brings total fundraising in 2018 close to 80 million euros.

NAVYA's shareholders include Robolution Capital 1 (managed by 360 Capital Partners), its reference shareholder and Gravitation fund and Paris Region Venture Fund (Région Île-de-France) managed by Cap Decisif Management as well as the Valeo and Keolis groups.

CS: The vehicles in the NAVYA Autonom range are all fully autonomous, driverless and electric. They benefit from an overall vision and expertise in automobile technology and software solutions which include perception, visualization, navigation, geolocation, telecommunications and automobile manufacturing.

NAVYA has one of the most experienced autonomous vehicle R&D teams in the world, with a dedicated R&D center based in Paris and an engineering centre based in Vénissieux, France. As of June 30, 2018, NAVYA employed 81 employees dedicated to the development of its autonomous vehicles. Leveraging over 10 years of R&D experience, NAVYA has developed deep in-house technological expertise which it applies to its autonomous vehicles, including in-house three-dimensional mapping, proprietary localization technology, deep learning and obstacle detection, driving systems and decision-making technology, security and safety and fleet management capabilities.

NAVYA's autonomous vehicles use sensor technologies, which allow highly accurate perception of their environment, such as LiDAR's and cameras technologies. This suite of sensors provides NAVYA's vehicles with multiple redundancy across all functions, making its vehicles highly reliable. NAVYA continuously monitors data from its autonomous vehicles through its Supervision Centre located in Villeurbanne, France.

What is your vision regarding the future of urban mobility?

CS: As an innovator in the Autonomous Vehicles sector, NAVYA is aiming to bring humankind into the "Autonom" era with its brand-new solutions, freeing up mobility at the heart of smart cities, making them cleaner, safer and more connected.

The idea is not to replace the existing transportation system outright. On the contrary, what we are aiming for is to make urban centres more fluid, by complementing current methods, providing a new solution for the first and last mile and indeed a brand-new mobility experience.

What role your company could play considering it is both focused on autonomous driving and electric-sustainable mobility?

CS: New technologies such as Autonomous Vehicles have the ability to bring new solutions that improve the everyday life of citizens. For example, autonomous, electric, shared and on-demand vehicles could serve new areas or poorly served areas and therefore propose a solution to complete the transport network system.

For that, it is crucial that we, as suppliers of autonomous mobility solutions, come together with society and municipalities to start taking steps towards creating a positive ecosystem and comprehensive benchmark for the coming Autonomous Vehicle Era in smart cities.

NAVYA's vision is to a build a more fluid and sustainable future by improving traffic flow and reducing congestion in urban centres. Through collaboration with transport planners we will ultimately upgrade the quality of our life while continuing to raise safety standards for a world in perpetual motion.

Are you interesting in expanding into other sectors?

CS: NAVYA's IPO on the regulated market of Euronext Paris will enable the Company to build on its current platform by maintaining its technological leadership through investments in software and R&D, take advantage of the numerous opportunities for shuttle and cab deployments by strategically expanding its sales and marketing teams and engineering capacity whilst also allowing the Company to access adjacent markets such as vehicles for the transport of goods as we announced few days ago with the creation of a subsidiary with Charlatte Manutention, one of the world's leading manufacturers of electric and combustion based vehicles for industrial and airport applications, to develop autonomous tractor solutions, particularly for transporting baggage in airports. By Alessandro du Besse

RECHARGING UNMANNED EVS FOR SMARTER CITIES
At the moment, the only system that would be capable of servicing such robotic vehicles would be the proposed SmartNet™ dual fuel service stations, where such vehicles do not need human assistance to replenish their energy reserves, using modular energy vending, where blue is the new green, helping to cool our climate. This assumes compatibility with a cartridge based energy transfer system.
Allied to this is PAYD (Pay As You Drive) billing, also seen as a necessary function for autonomous, unmanned, self-driving, robotic vehicles, is helping to make the world a better place.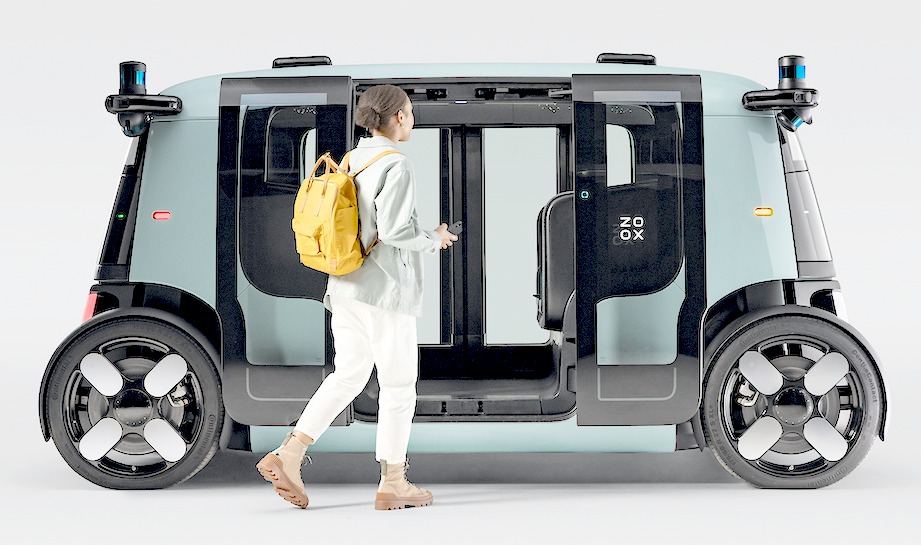 ROBOTAXIS - It's a brave new world where EVs drive people around cities, but where in rural locations, privately owned robocars are likely to be more the thing. Unless, villages get their acts together. Unlikely, given the conflicts within Parish and District councils (in the UK) where demonstrable over development is causing global warming. It's every person for themselves, until there is a better community sprit, the likes of which robotaxis and shuttle services personify.
https://navya.tech/en/solutions/moving-people/self-driving-shuttle-for-passenger-transportation/
https://impakter.com/navya/
https://navya.tech/en/solutions/moving-people/self-driving-shuttle-for-passenger-transportation/
THE AUTOMATED and ELECTRIC VEHICLES ACT 2018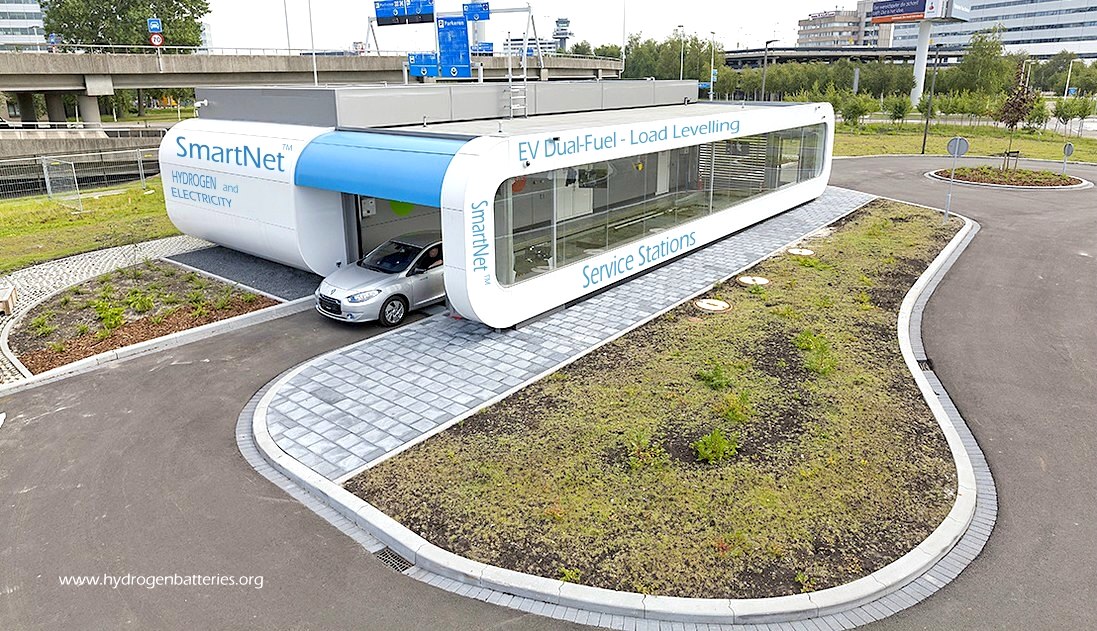 SMART SERVICING FOR ROBOT VEHICLES - Those looking for a future proofed infrastructure for renewably sourced energy for electric vehicles, may want to consider the new breed of self driving passenger cars, taxis, and commercial trucks that will benefit from automated recharging if they are to be fully autonomous in operation - most especially unmanned robotic taxis and freight vehicles. These units are potentially safer in terms of hydrogen handling, than piped gas, offering an alternative energy network.
Please use our A-Z INDEX to navigate this site
This website is provided on a free basis to promote zero emission transport from renewable energy in Europe and Internationally. Copyright © Universal Smart Batteries and Climate Change Trust 2021. Solar Studios, BN271RF, United Kingdom.