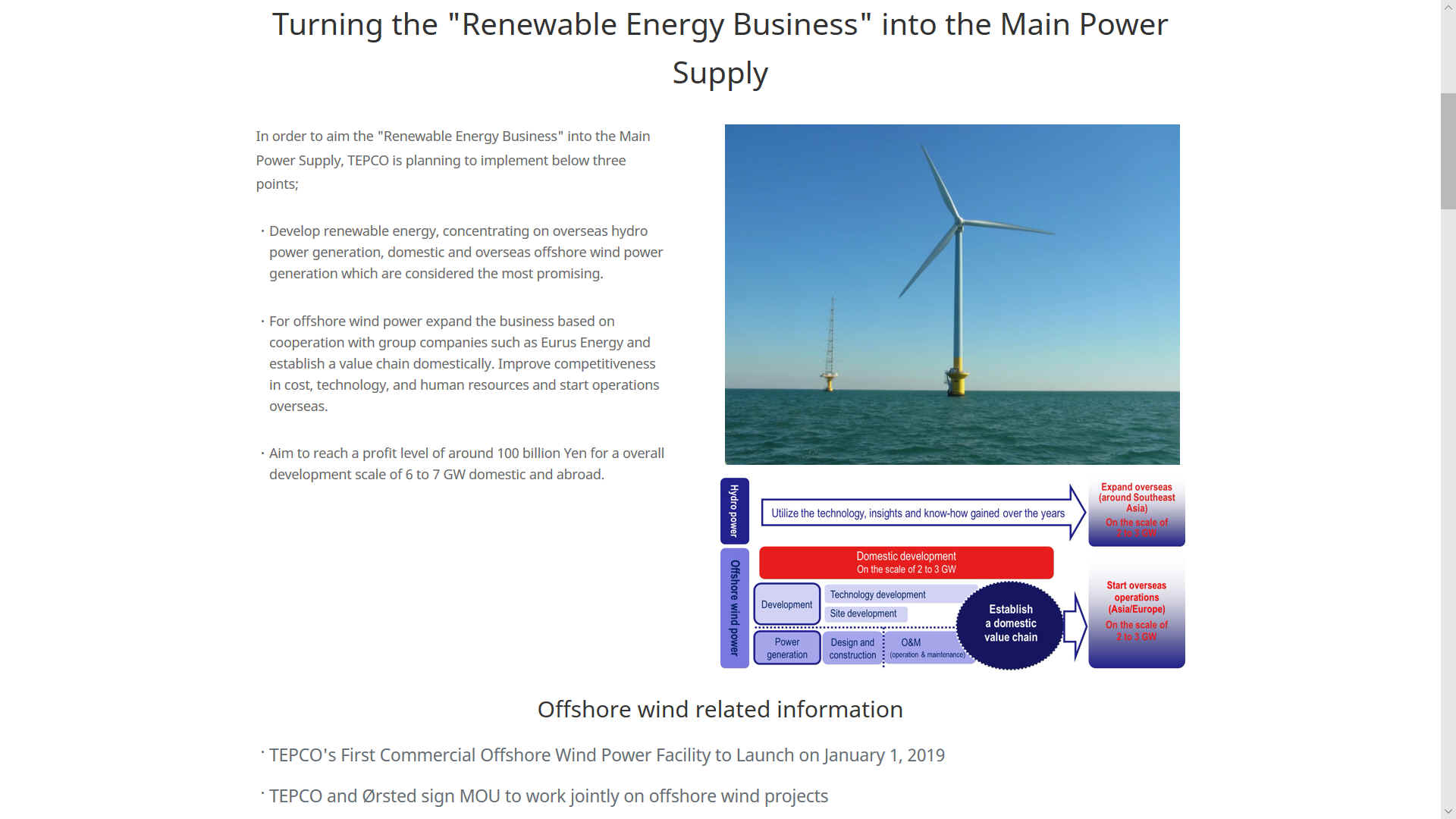 ABOUT TOKYO ELECTRIC POWER COMPANY
Japan's biggest power company Tokyo Electric Power Company (TEPCO) registered $55.36bn of revenue in the year ending December 2018. The company's electricity sales volume during the period stood at 239.9TWh.

Headquartered in Chiyoda, Tokyo, TEPCO focuses on power generation and distribution through 34 subsidiaries and 32 affiliates.

TEPCO has three core operating segments, which include Fuel and Power (fuel and thermal power generation), Power Grid (general power transmission and distribution), and Energy Partner (electricity retail).
According to their website, TEPCO is aimed at these goals;
Develop renewable energy, concentrating on overseas hydro power generation, domestic and overseas offshore wind power generation which they consider to be the most promising.

For offshore wind power electricity generation, to expand the business based on cooperation with group companies such as Eurus Energy and establish a value chain domestically. Improve competitiveness in cost, technology, and human resources and start operations overseas.
Aim to reach a profit level of around 100 billion Yen for a overall development scale of 6 to 7 GW domestic and abroad.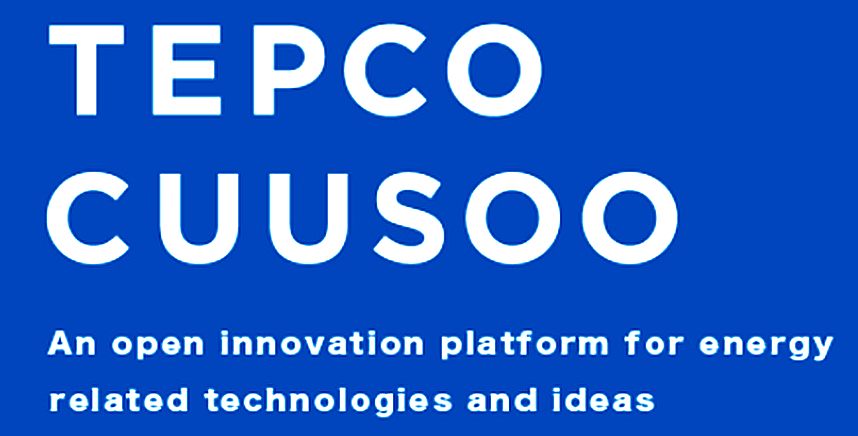 OPEN INNOVATION PLATFORM
The TEPCO Group utilizes revolutionary technologies, services, and ideas in order to create new value and find solutions for the issues faced by the company and the society in general.
In particular, they are promoting the use of the "open innovation" methods, which allow them to bring in new technologies and ideas from various companies, startups, researchers, research institutes, and other sources around the world in order to create new value and find solutions for the issues they cannot solve on their own in a timely fashion

They have several open innovation tools available. In order to approach companies, research institutes, and other organizations overseas, they search for information and technologies by requesting proposals through an online platform and by hiring technology research companies. When necessary, they post requests for the information or technologies their Company and its Group need on their online platform called "TEPCO CUUSOO." The platform allows anyone to simply register and view the required information or technologies. They are looking forward to any suggestions, ideas, and technology information that could help them tackle various issues. Presumably, including power supplies for electric vehicles.
Duke Energy Corporation, DUK, N. Carolina, USA
Dominion Energy Inc., Richmond, Virginia
Exelon Corporation EXC, Chicago, USA
KEPCO Korean Electric Power Corporation
National Electric Grid & Central Electricity Authority (India)
National Energy Board (Canada)
National Grid plc (formerly Central Electricity Generating Board UK)
Next Era Energy Inc. Florida, USA
Scottish & Southern Energy
Southern Company, Atlanta, Alabama, Georgia, Mississippi, USA
State Grid Corporation of China
TEPCO Tokyo Electric Power Company
TEPCO CONTACTS
....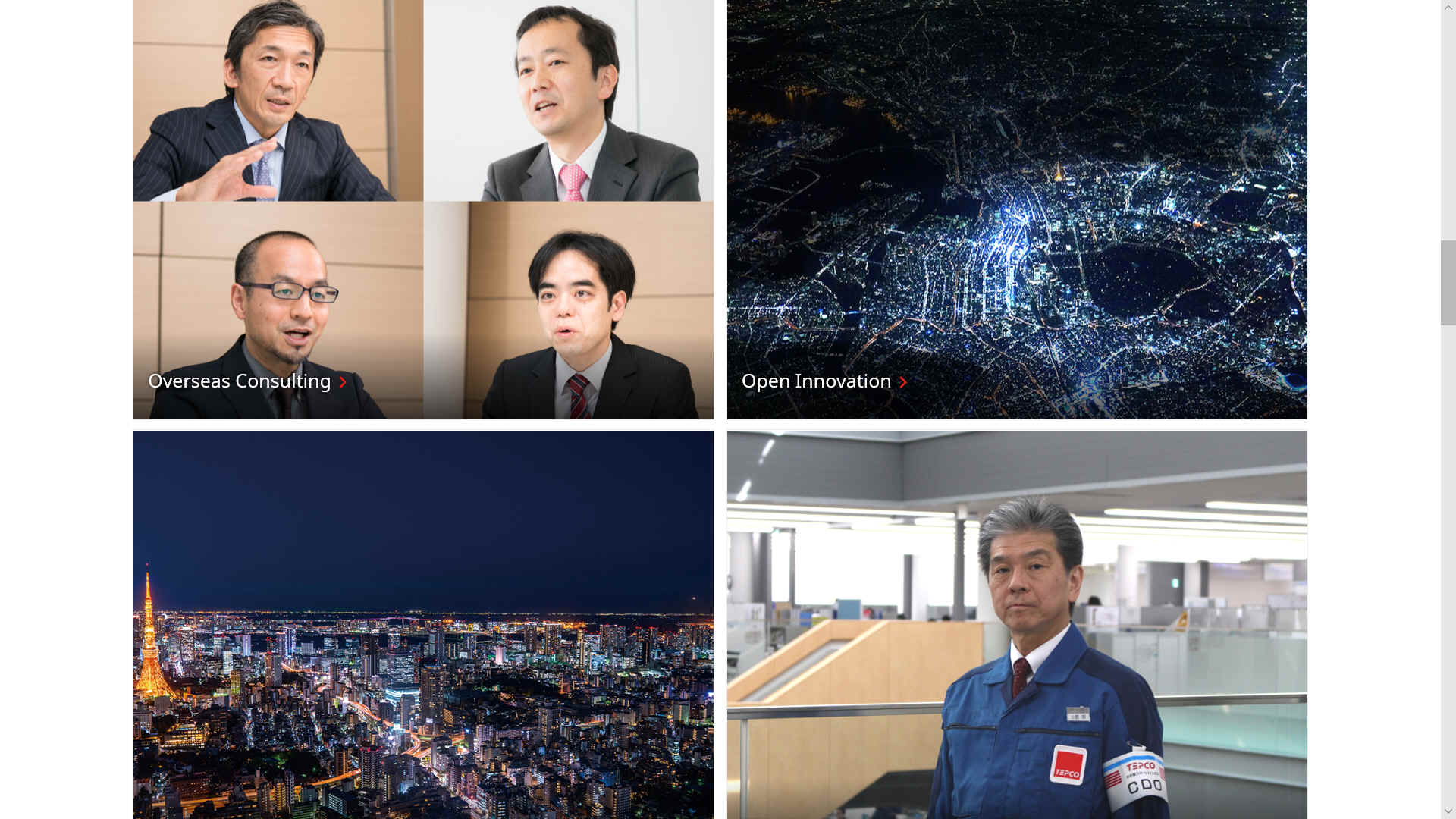 LINKS & REFERENCE
https://www7.tepco.co.jp/ourbusiness/open/index-e.html
https://www.facebook.com/OfficialTEPCOen/
https://www7.tepco.co.jp/ourbusiness/renewable/index-e.html
http://www.tepco.co.jp/en/
Please use our A-Z INDEX to navigate this site