ABOUT EDF
The Électricité de France SA, or simply EDF, is a French state-owned power company that produces, markets, and distributes electricity from hydropower, solar power, wind, biomass, nuclear, marine energy, and geothermics.
It had a gross installed capacity of 140.4GW by the end of 2013, with a total power generation of 653.9TWh for 39.1 million customers during that year. EDF had $75.8 billion market capitalisation and $353.9 billion of assets as of May 2014, and recorded sales of $100.4 billion and a profit of $4.5 billion in 2013.
EDF's revenue increased by 6.3% year-on-year to reach $77.8bn in 2018. The company's power generation, supply, and regulated activities in France accounted for 61%, while the UK and Italian markets accounted for 13% and 12% of its revenue respectively.

Its reactor business Framatome contributed 4.8%, while its renewable businesses Dalkia and EDF Renewables respectively contributed 6% and 2% of its revenue.

The company operates 73 nuclear reactors and serves more than 35 million customers worldwide using 1.3 million kilometres of low and medium-voltage networks and 100,000km of high and very-high-voltage transmission networks or grids.
This company started in April 1946 and went on to have 154,941 employees in 2014, with headquarters in Paris. It owns and operates 3 of the world's top 10 nuclear power plants by capacity (that should be banned or replaced as soon as possible as ultimately dangerous to our citizens and oceans).
Its wholly-owned subsidiary EDF Energy is the biggest producer of low-carbon electricity in the UK.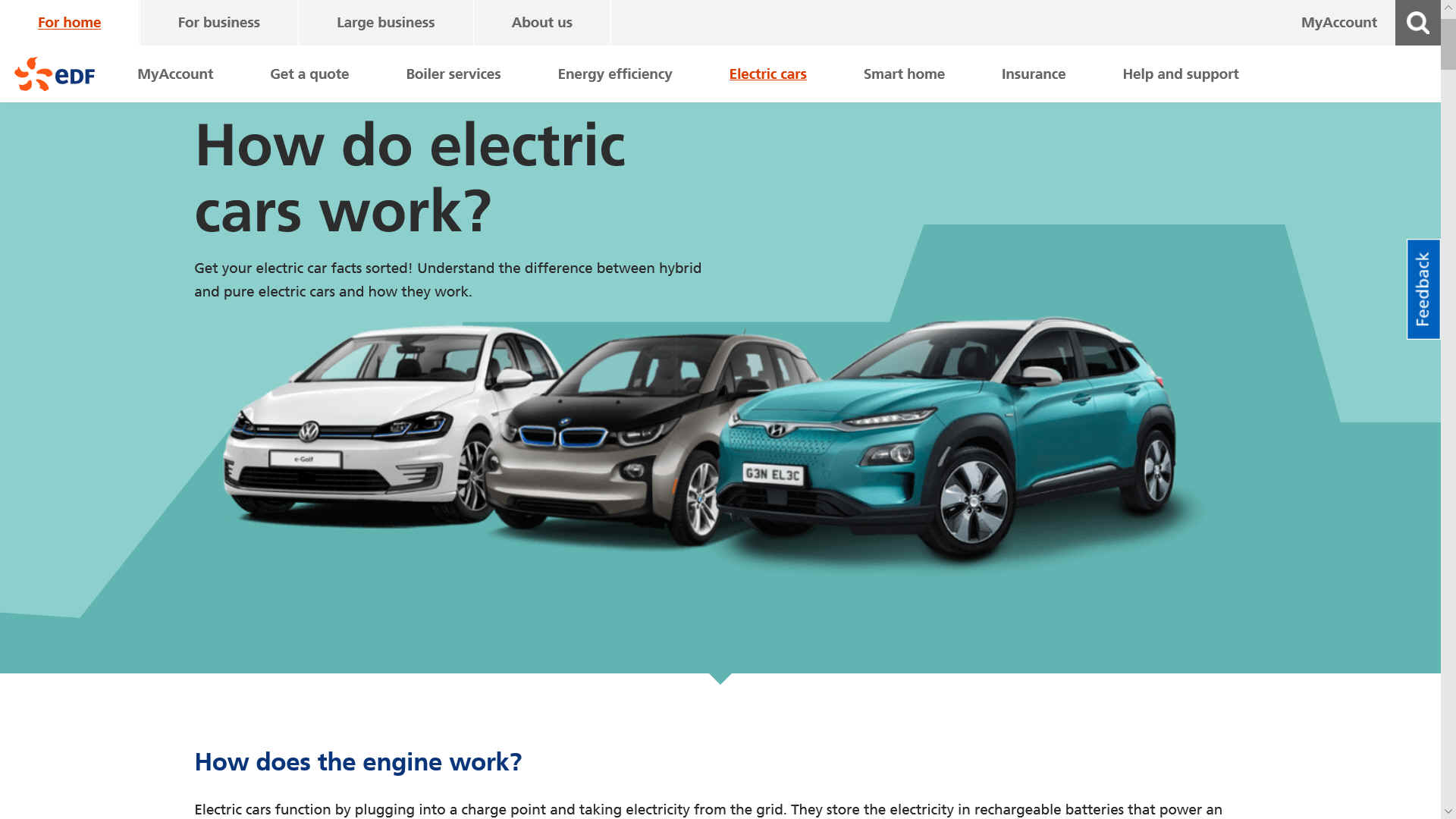 HIGH VOLTAGE - French state-owned Électricité de France SA (EDF) provides power generation, transmission, distribution, and energy supply and trading. It is involved in every aspect of the electricity industry.16 Group companies operate in many countries around the world and employ approximately 165,790 people globally.

The company is consolidating its operations in France and Europe and increasing its presence in key emerging countries, such as Brazil, China, and Russia.18 EDF owns and operates three of the world's Top 10 nuclear power plants by capacity and is the largest producer of low-carbon electricity in the U.K. EDF had €71.3 billion in annual revenue in fiscal year 2019 and currently has a $40.3 billion market capitalization.
EDF ON ELECTRIC CARS
How does the engine work?
Electric cars function by plugging into a charge point and taking electricity from the grid. They store the electricity in rechargeable batteries that power an electric motor, which turns the wheels. Electric cars accelerate faster than vehicles with traditional fuel engines – so they feel lighter to drive.

How does charging work?
You can charge an electric vehicle by plugging it into a public charging station or into a home charging unit. There's plenty of charging stations around the UK to stay fully charged while you're out and about. But to get the best deal for home charging, it's important to get the right electricity tariff, so you can spend less money charging and save more on your bill.
What's their range like?
How far you can travel on a full charge depends on the vehicle. Each model has a different range, battery size and efficiency. The perfect electric car for you will be the one you can use for your normal journeys without having to stop and charge up halfway through.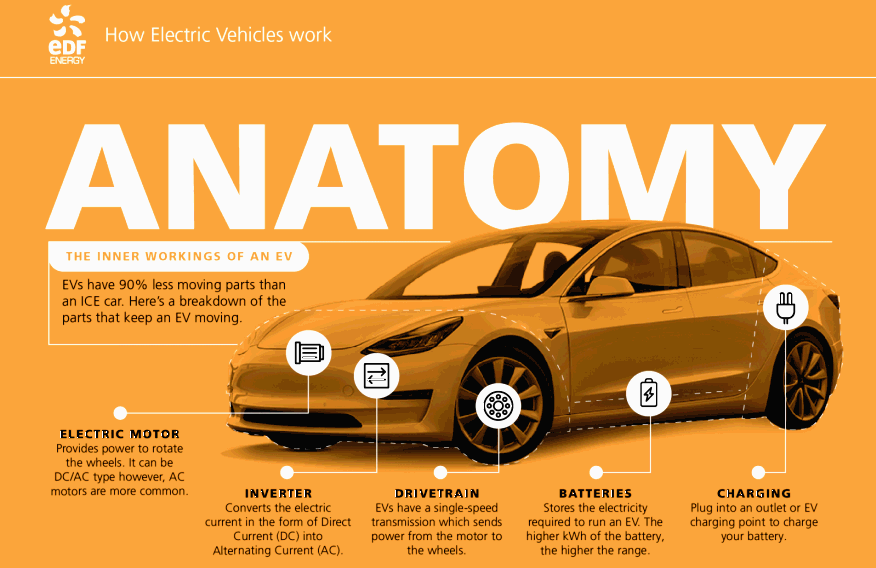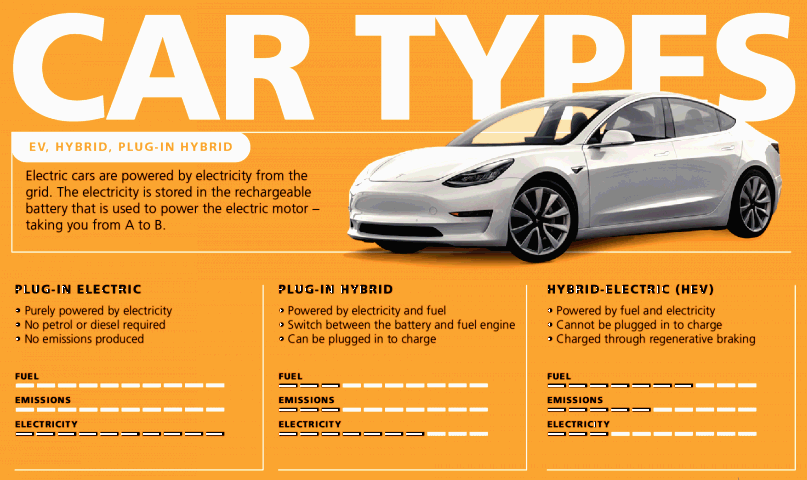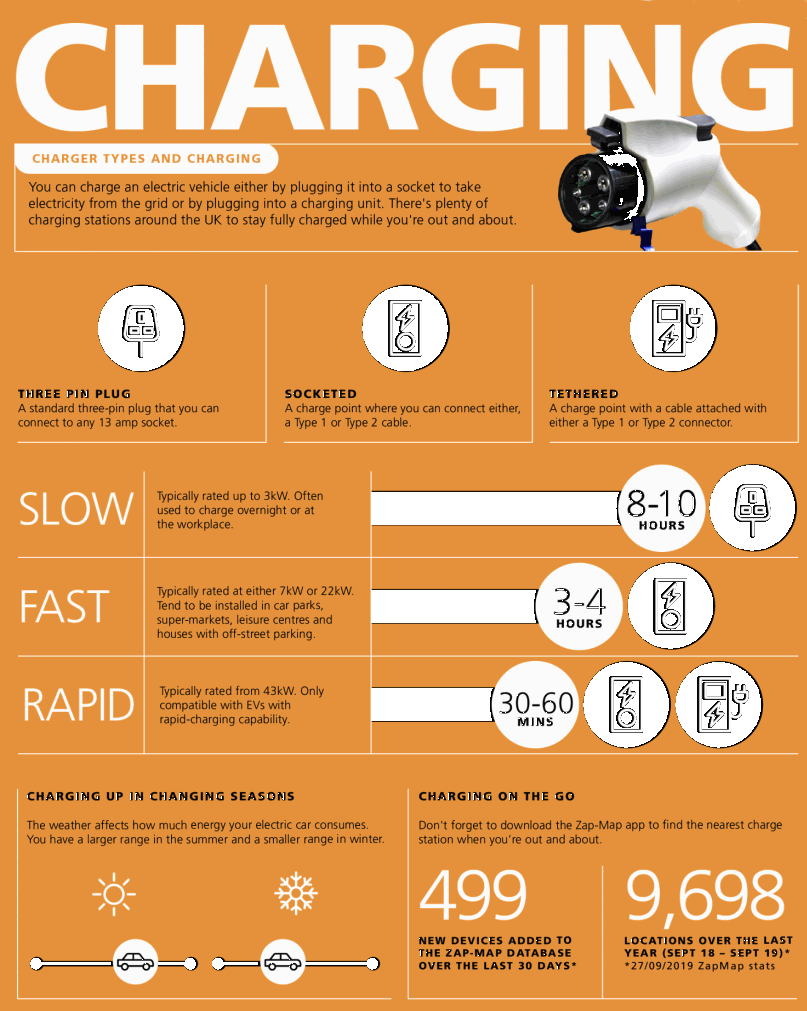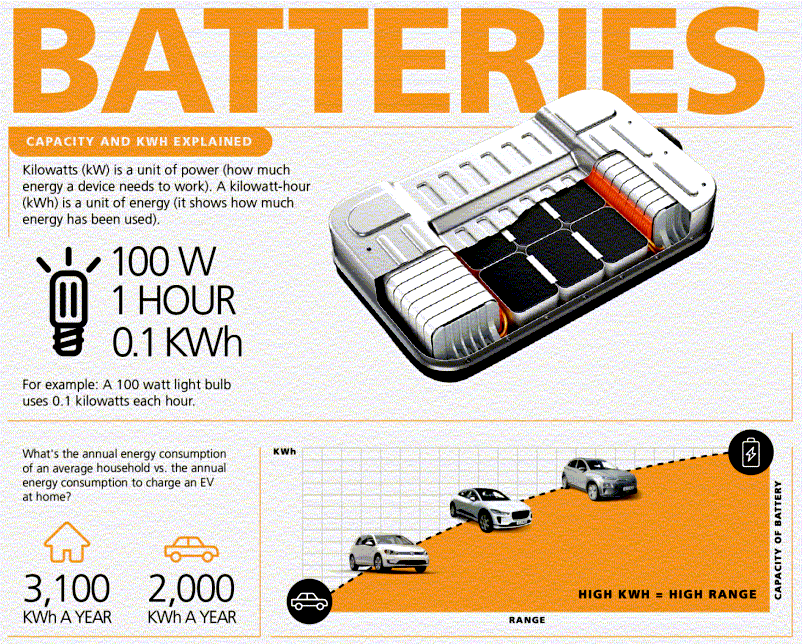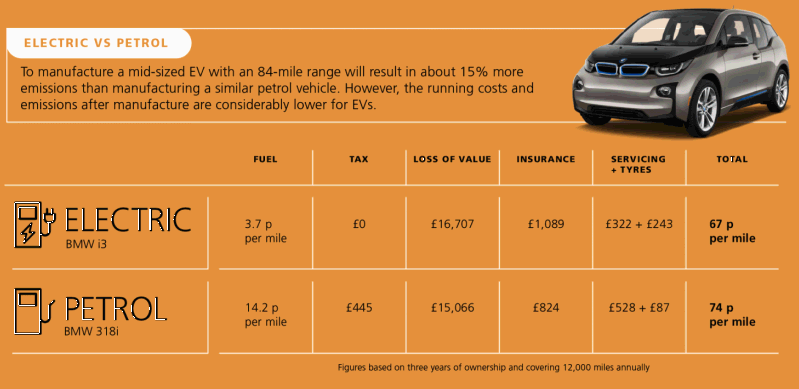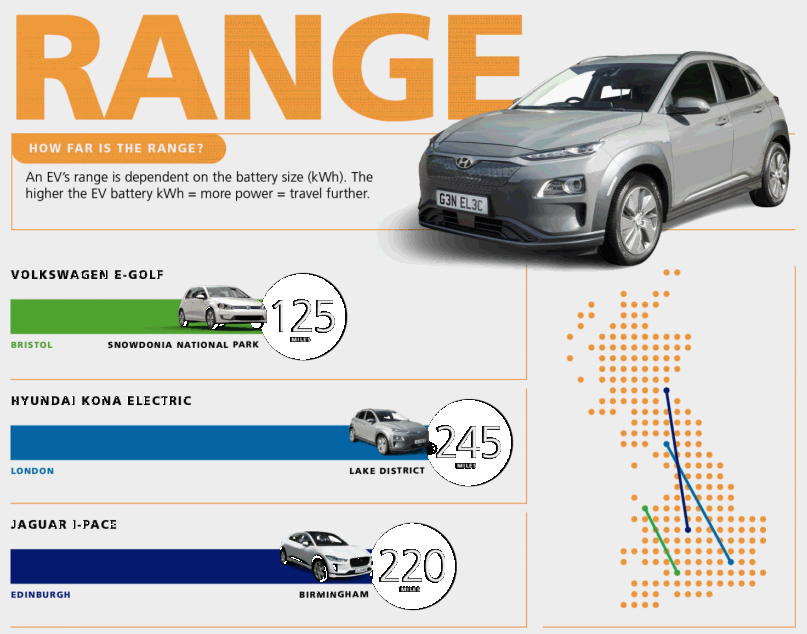 RESEARCH, DEVELOPMENT & INNOVATIONS
EDF claim that RD&I are at the heart of their company:

"EDF Energy Research and Development (R&D UK) is a centre of technical excellence whose main purpose is helping to build a brighter energy future for the UK.
Our vision is: "Accelerating the transition to a sustainable, low carbon society through the development and testing of new technologies and business models.

EDF Energy R&D UK is currently advancing research in the fields of Low Carbon Generation (supporting existing nuclear, nuclear new build and renewables), Modelling and Simulation, Environment and Natural Hazards, Energy System Design, Smart Cities, Local Energy Systems, Energy Storage & Efficiency and Smart Digital Technology.
By coupling the advances in science and engineering with the emergence of new digital innovations EDF Energy R&D UK is providing ground breaking solutions to policy makers, partners and customers in order to realise our vision."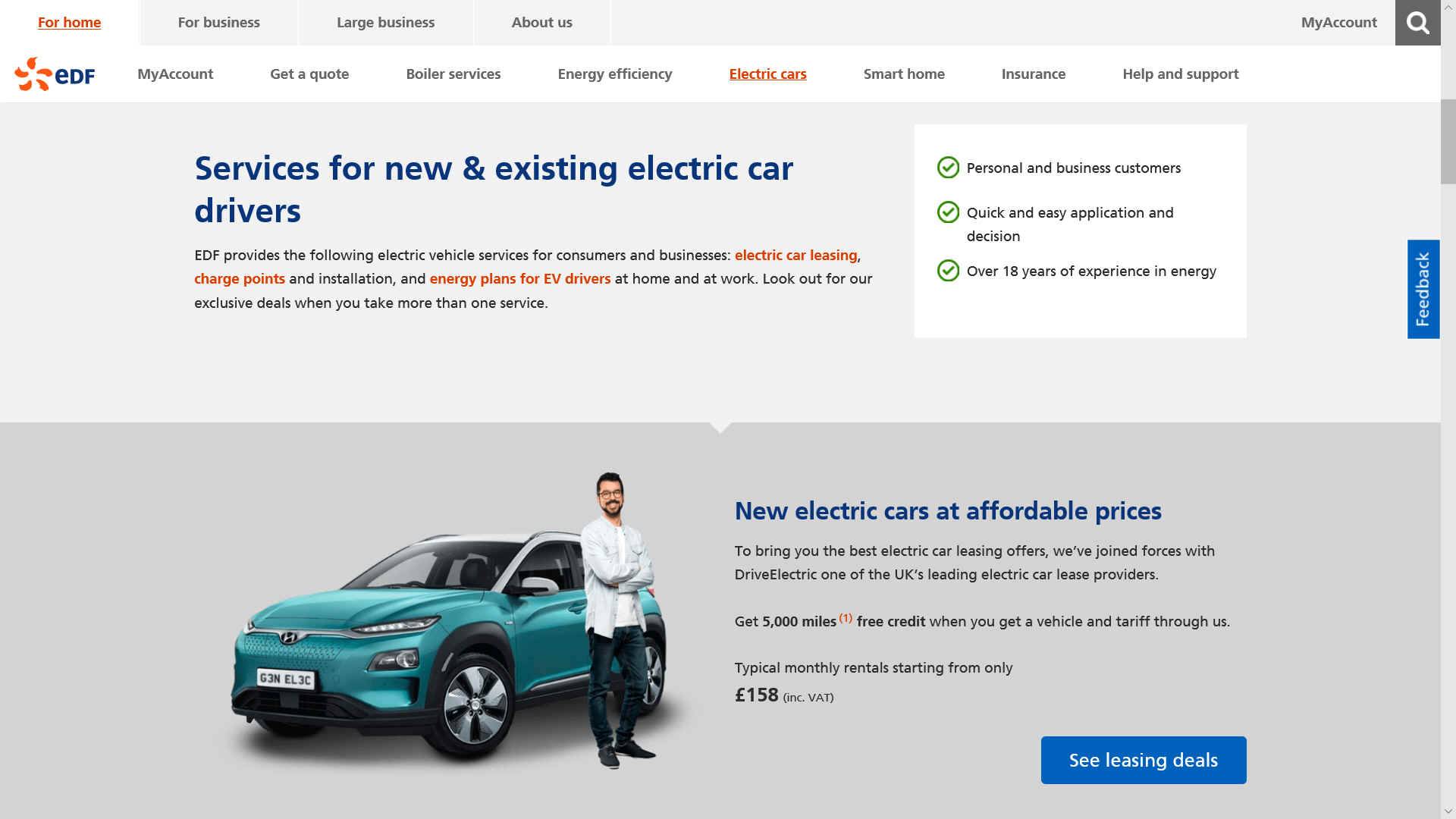 Duke Energy Corporation, DUK, N. Carolina, USA
Dominion Energy Inc., Richmond, Virginia
Exelon Corporation EXC, Chicago, USA
KEPCO Korean Electric Power Corporation
National Electric Grid & Central Electricity Authority (India)
National Energy Board (Canada)
National Grid plc (formerly Central Electricity Generating Board UK)
Next Era Energy Inc. Florida, USA
Scottish & Southern Energy
Southern Company, Atlanta, Alabama, Georgia, Mississippi, USA
State Grid Corporation of China
TEPCO Tokyo Electric Power Company
CONTACTS
EDF Energy
51 Rue Gaston Lauriau
93100 Montreuil
France
FREEPOST
EDF Energy
Plymouth

24 hour gas emergency helpline
0800 111 999
LINKS & REFERENCE
https://www.gov.uk/government/news/30-million-investment-in-revolutionary-v2g-technologies
https://locity.org.uk/
https://www.edfenergy.com/electric-cars
Please use our A-Z INDEX to navigate this site