BRACE YOURSELVES - OR - RIG FOR ACTION
The UK sits in the path of predominately westerly winds where low pressure weather systems, (and associated clouds and rain) frequently move eastwards or north-eastwards across the North Atlantic and then across the UK. This brings unsettled and windy weather, particularly in winter. Summers in the UK are usually cooler than those on the European continent whereas our winters are often much milder. However, experts anticipate that climate change will alter the UK's weather, leading to changes in patterns of rainfall and temperature. This has the potential to cause more frequent extreme weather events

A storm on 16 October 1987 brought down 15 million trees in south-east England and caused dozens of deaths. This event is famous because Michael Fish, a BBC weather forecaster, said not to worry, there was no hurricane coming.
Michael Fish was born in Eastbourne, Sussex, in 1938 and studied at City University in London.

He joined the Met Office in 1962 and started doing broadcasting for BBC Radio nine years later, even though he wasn't actually working for the corporation.

He began weather forecasting for the broadcaster in 1974 and for 30 years he was a familiar face on BBC Weather news, gracing viewers with his chequered two-piece suits in varying shades of beige. The married dad-of-two was also an author and keen actor. He was awarded an MBE in 2014, for services to broadcasting.

During his final forecast before he retired in 2004, his colleague Ian McCaskill called him the "the last of the true weathermen you will ever see".
Severe weather had been predicted before the Great Storm - as it later became known - hit the south coast of England in the early hours of 16 October.

The previous afternoon, the Met Office had forecast winds for the Channel and very heavy rain overland.

The BBC's weather presenter Michael Fish had quashed rumours a hurricane was on the way: "Don't worry, there isn't", he infamously told the nation.

But just a few hours later, the storm changed direction.

Severe weather warnings were issued to emergency responders, including the Ministry of Defence and London Fire Brigade.

But what became the worst storm since 1703 was by that point unstoppable.

A maximum gust of 115mph was recorded at Shoreham in West Sussex, while London was battered by gales of up to 94mph.

On the south coast the Royal Sovereign lightship witnessed an average wind speed of 86mph. A ship capsized at Dover and a Channel ferry was driven ashore near Folkestone.

Thousands of homes were left without power for several days, and the damage caused by the storm was put at more than £1bn.

The number of trees lost was estimated at 15 million.

Eighteen people in the UK - and four in France - were killed.

The Great Storm was later categorised as a one-in-200-year event. Clearly, no so with global warming churning things up.

On top of the environmental cost, there was structural damage as trees, ripped from the ground by their roots, crushed houses and vehicles and blocked roads and railways.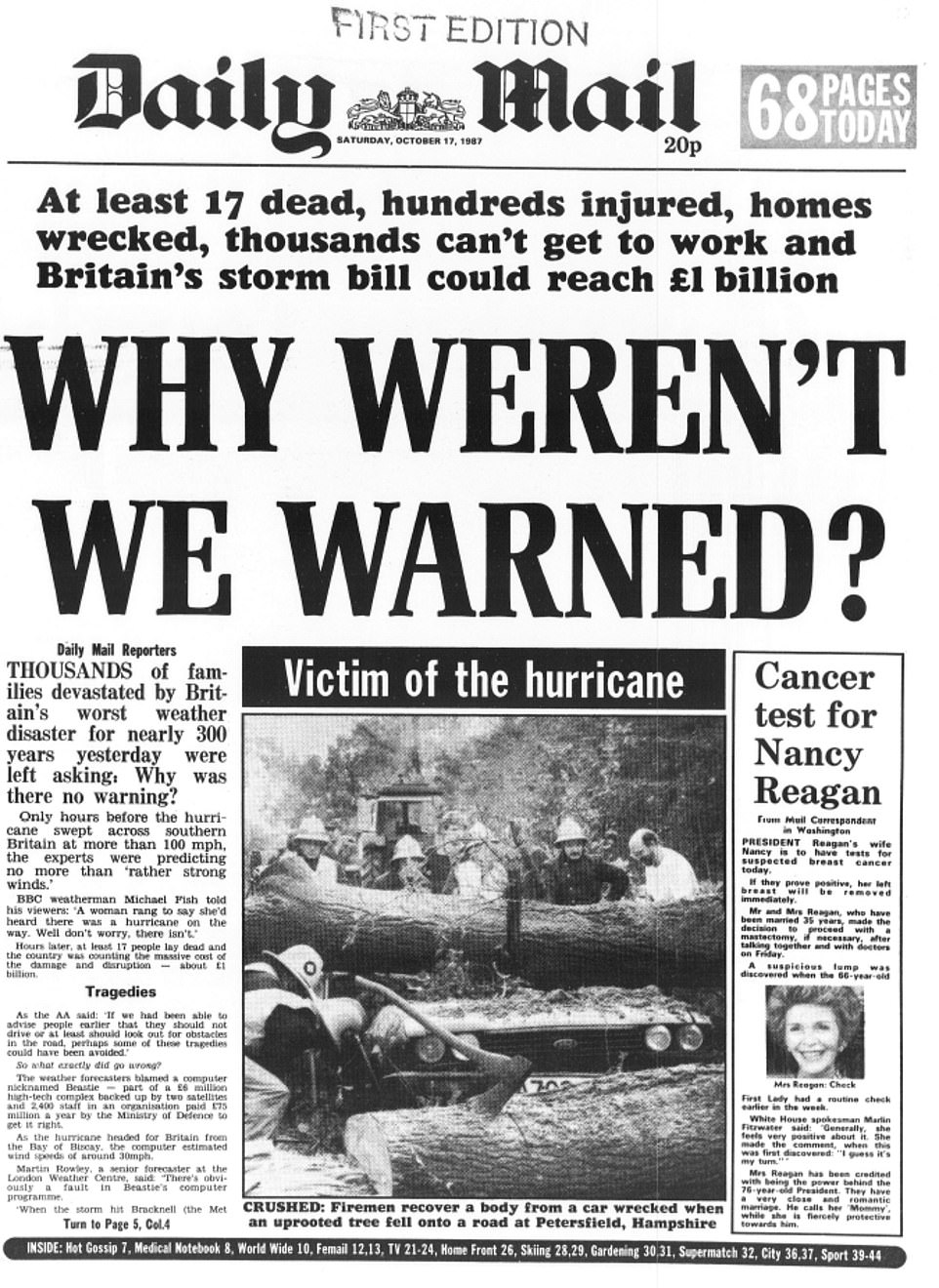 What did Michael Fish say in 1987 hurricane weather forecast?

In the infamous weather broadcast in October 1987 Michael Fish wrongly denied claims a hurricane was going to hit Britain.

Hours after he said there was no hurricane coming "but it will be very windy in Spain" there was devastation across the UK that claimed 18 lives.

During the segment, he said: "Earlier on today, apparently, a woman rang the BBC and said she heard there was a hurricane on the way... well, if you're watching, don't worry, there isn't!"

Fish said in a BBC interview, the woman caller who phoned in to the BBC regarding the storm did not exist, he merely thought it would be a good opening line for the broadcast.

Around the storm's 30th anniversary, Mr Fish said he would love to have a storm named after him.

He added: "It's a myth that we didn't know it was coming, that there was no mention of high winds, that I was the only one that got it wrong the woman that rang the BBC - there wasn't a wasn't a woman at all actually - and that it was a hurricane."

The former presenter said life was "pretty horrendous" after his "unfortunate remark" led him to being blamed for the missing cyclone, but he was proud that it was used during the opening ceremony of the Olympic Games.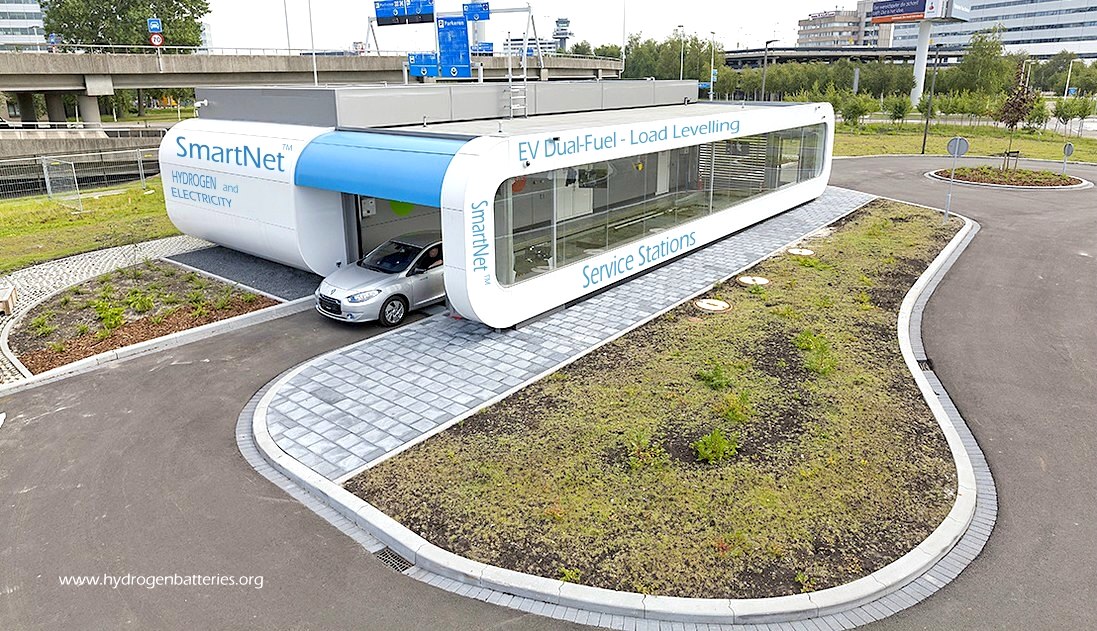 POWER CUTS. The SmartNet™ system could be the solution, also providing load levelling for national grids having to cope with renewables. Governments have known about this system for years. It was presented to the Dti for a Smart Award in 1998. The Department for Trade and Industry replied, that there was no future for a system based on energy storage. They wanted hydrogen solutions. Indeed. It seemed to pass them by that this system included hydrogen, and made provision for ammonia and methanol - by way of future proofing.
The real problem was the coal and oil lobbyists and policy makers personal investments in fossil fuels. This kept the Red Flag flying all the time climate deniers were given house room.
BURNS DAT STORM
The 'Burns Day' storm on 25 January 1990 killed 47 people across the British Isles. The 'St Jude's Day' storm on 28 October 2013 caused four deaths as a result of falling trees, severe disruption to transport and left more than 850,000 homes without electricity.
The October storms caused significantly more damage to trees as they still held their leaves, making it easier for strong winds to damage or uproot them. In February 2001, heavy snow and strong winds caused travel disruption for up to five days and brought down power lines across Northern Ireland.
Storms Dudley, Eunice and Franklin are recent examples of how inadequate and poorly prepared the UK is for transition to the age of electricity. These storms demonstrated the state of unprepared-ness of British power networks. Policies so far have been lackluster, as the present infrastructure and development of towns and villages far preceded the the worst imaginings of our leaders of yesteryear.
A good idea is to invest in a home on high ground. Town planners (Councils) in the UK, and especially South-East, have been routinely granting planning permission in locations where flooding is a high risk, or where drainage is inadequate, chasing taxes, rather than security. Meaning, you'll have to conduct your own survey.
THE STORM NAMING SYSTEM

The Met Office asks the public to suggest possible names, and a new list is published every year.
The Met Office and the Irish equivalent Met Eireann decided to begin naming storms after a survey revealed people became more aware of extreme weather warnings once the storm was given a name.

In response to the results, a list of names was drawn up from suggestions from the public which has given us the likes of Storm Abigail, Storm Doris, and Storm Christoph.

naming storms is not a new phenomenon as the US National Hurricane Centre has named tropical storms since 1953 to make it easier to refer to Atlantic tropical storms when tracking them and so the public will always know exactly what storm is on its way.

Since the regions of the mid-Atlantic are so often plagued with tropical storms that evolve into hurricanes it makes sense to distinguish between them, so far this year the US and the Caribbean have suffered severe damages from Hurricane Harvey, Hurricane Irma, and Hurricane Maria.

In the UK a storm is named when it has potential to cause disruption or damage, and the Met Office may be forced to issue an amber or red warning for regions in the country.

Red, amber, yellow or green weather warnings are based on guidance from our National Severe Weather Warning Service, which is a combination of both the impact the weather may have and the likelihood of those impacts happening.

These impacts could mean the impacts from wind but also from rain and snow.

Once the storm meets the criteria for being named, either Met Eireann or The Met Office will actually publicly name the storm, adhering to the formulated list.
The A-Z of names, which runs from September to August (2021 - 2022 example), flips between male and female as follows:

Arwen
Barra
Corrie
Herman
Imani
Jack
Kim
Logan
Meabh
Nasim
Olwen
Pol
Ruby
Sean
Tineke
Vergil
Willemien

You can send in your own suggestions by sending an email to nameourstorms@metoffice.gov.uk
They are going to need them.
NO BACK UP
Most households do not have back-up generators. Hence, the vulnerable and elderly are put at risk.
Why?
It is predicted that Climate Change is going to make storms and flooding more regular. Meaning that we can expect more power cuts. More inconvenience. No backup, and more excuses.
Why?
When, as a matter of fact the energy supply networks have known for over forty years that this situation was coming.
But, what have they done about it. Apart from whine and increase the price of electricity.
Why?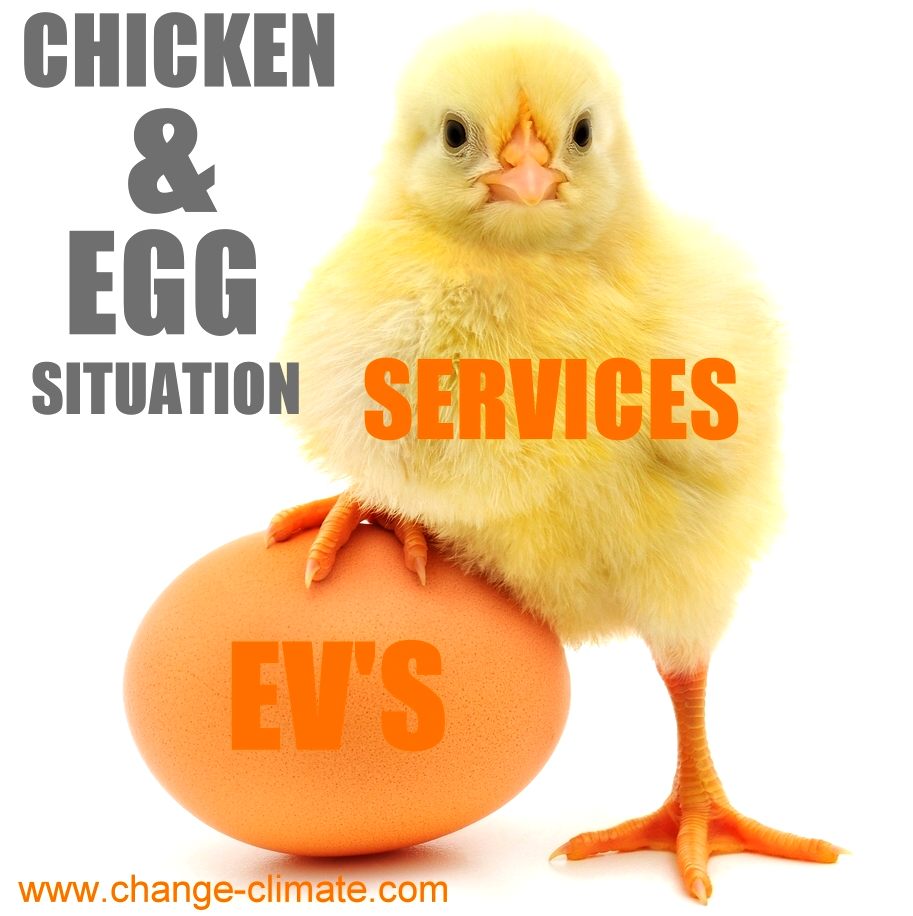 Could it be that our policies are deficient.
And who makes the policies?
That's right. Our politicians. This is not limited to the UK, it is an international problem.
In our view, they really need to get on top of things. Worry about their functions as MPs, and leave their second jobs at home. Although. We advocate a ban on consultancy sidelines, because of the obvious conflict of interest. Probably one reason our energy suppliers have been allowed to doze for the last forty years - with the Red Flag flying at full mast.
The worst case scenario is that people will die as a result of negligent forward planning on the part of those enfranchised to look after us. Industry watchdogs are only as good as the policies they operate under. They are not there to upgrade a dysfunctional system.
Policies must be put in place to prevent unnecessary deaths - resulting from power cuts.
We cannot cease the use of fossil fuels overnight, that would be irresponsible, where civilization needs energy for life. But we can transition without causing undue hardship to existing stakeholders, provided that they take steps to reinvest in new technology in a changing world.
Please use our A-Z INDEX to navigate this site
This website is provided on a free basis to promote zero emission transport from renewable energy in Europe and Internationally. Copyright © Universal Smart Batteries and Climate Change Trust 2022. Solar Studios, BN271RF, United Kingdom. The name SmartNet™ is a trademark.