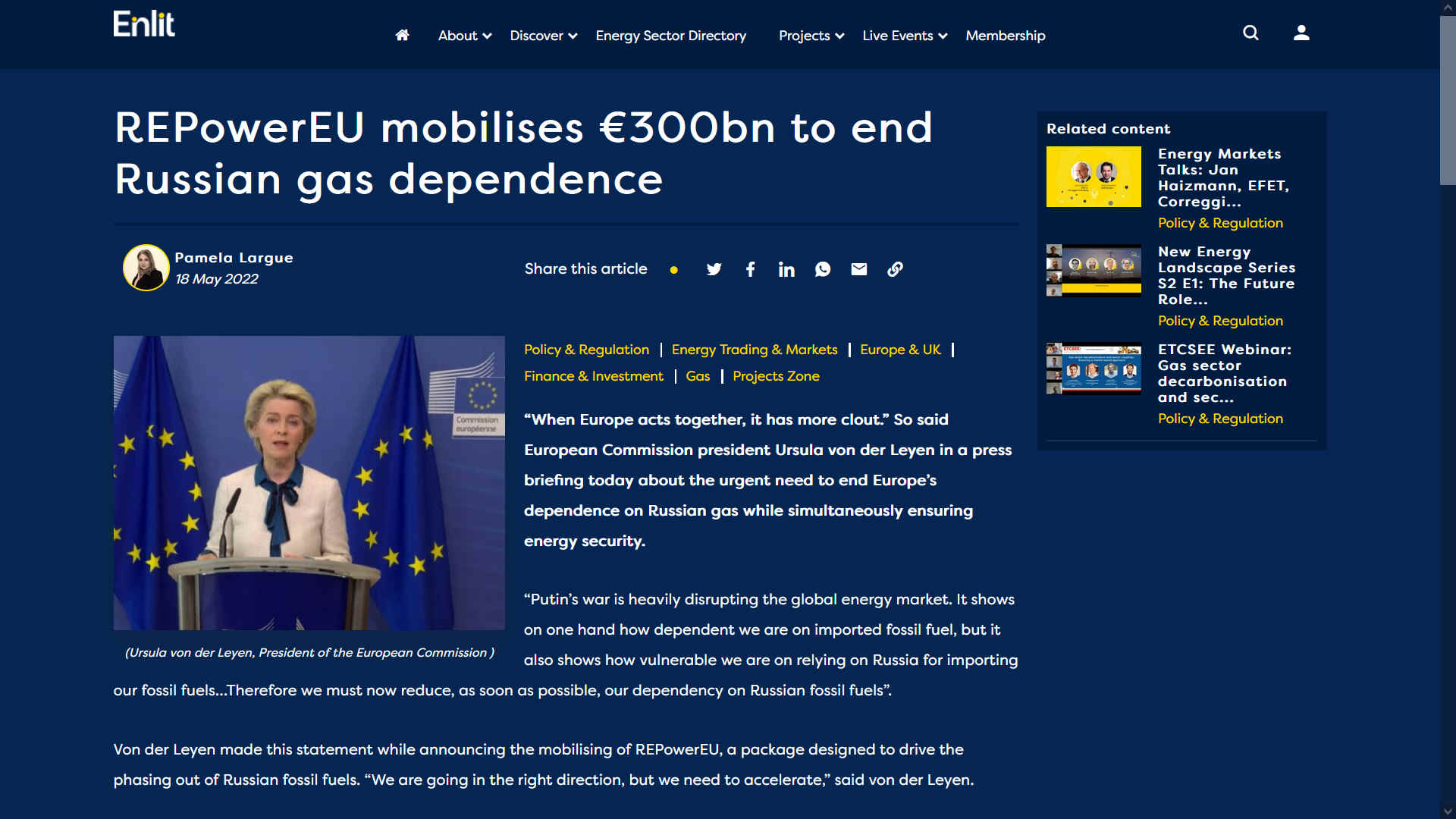 It remains to be seen if the simple act of pouring more money into the development cauldron will provide a solution, or if there will need to be statutory enforcements to bring about change. Something needs to be done to get the energy industry off their big fat comfy chairs.
The corporate and investor Red Flags to change may be holding up the transition to renewable energy for heating, transport and industry. For some reason politicians appear not to have connected the dots between energy for homes and transport. Linking those services with under performing utilities. We confidently predict that none of that fund will reach us to develop the SmartNet system, due to policy deficiency.
How long it may take for them and their policy makers to twig, may depend on another conflict of a different kind. A voting revolution perhaps, as the cost of living soars, against the failure of our leaders to adapt to changing world conditions.
The President of the European Commission, Ursula von der Leyen looks to be more in touch with reality, but is lumbered with a bureaucracy in love with slow motion, as a job creation, or preservation scheme. Where results don't really matter, and in fact may call a close of a career as an EU civil servant. They don't want solutions. They want to make it appear they are searching for solutions, as they bumble along trying to look both worried, intelligent and busy. Mostly, working from home, but without any mechanism to check where they are or what they are doing - as they claim their salaries - for being non-productive. The same is happening in health services, with absent doctors, and local authorities, quick to jump on the Covid bandwagon.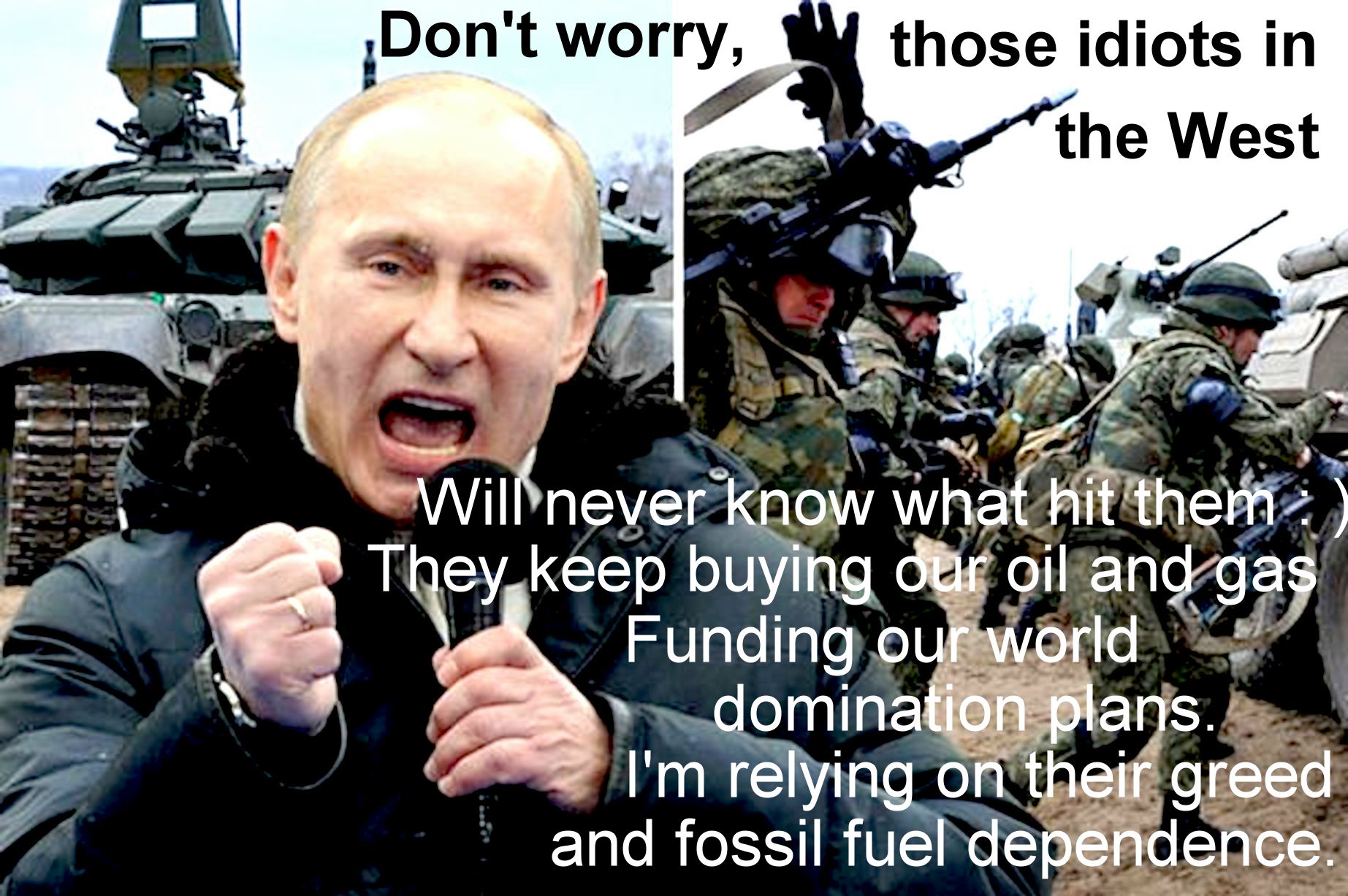 "When Europe acts together, it has more clout." So said European Commission president Ursula von der Leyen in a press briefing today about the urgent need to end Europe's dependence on Russian gas while simultaneously ensuring energy security.

"Putin's war is heavily disrupting the global energy market. It shows on one hand how dependent we are on imported fossil fuel, but it also shows how vulnerable we are on relying on Russia for importing our fossil fuels…Therefore we must now reduce, as soon as possible, our dependency on Russian fossil fuels".

Von der Leyen made this statement while announcing the mobilising of REPowerEU, a package designed to drive the phasing out of Russian fossil fuels. She continued: "We are going in the right direction, but we need to accelerate."

The package will mobilise up to euros 300 billion euros ($315 billion) to ensure investments are directed into three main pillars:

1. Demand-side: Increasing the EU efficiency target for 2030 from 9% to 13%.
2. Supply-side: Diversifying away from Russia to other reliable suppliers. A platform has been established for the joint purchase of gas, LNG, and hydrogen. Also, a mechanism for joint procurement and joint outreach to supplying countries will help secure the needed energy imports without the competition between member states.
3. Accelerating investment in renewables: Increasing the 2030 target from 40% to 45% renewable energy.

With #REPowerEU, we are increasing our 2030 EU energy efficiency and renewable energy targets.

And proposing a solar rooftop obligation for commercial and public buildings as of 2025 and for new residential buildings as of 2029.
— Ursula von der Leyen (@vonderleyen) May 18, 2022

The 300 billion euros will be made available through grants, as well as 225 billion euros ($237 billion) in loans, 10 billion euros ($10.5 billion) for LNG, and 2 billion to develop oil infrastructure to stop the shipment of Russian oil.

Von der Leyen added that several key actions will be put in place to support this package and speed up the energy transition, such as speeding up permitting procedures for renewables.

"The foundation is already in place through the European Green Deal and Fit for 55… but we need to take it to another level to become independent as soon as possible.

"REPowerEU will help us save energy, phase out fossil fuel and kickstart investment on a new scale – [it's the] speed charging of our EU Green Deal."

Back in March we showed it could be done. In Versailles, Europe's leaders agreed it should be done. And today, we set out how to do it.
#RePowerEU speeds up our clean energy transition, creating jobs in here and ending the fossil fuel imports that fund Putin's war: https://t.co/cFivQZSum4

— Frans Timmermans (@TimmermansEU) May 18, 2022

Commenting on the announcement, Ignacio Galán, CEO and chairman of Iberdrola, is quoted as saying: "…REPowerEU is a set of progressive proposals that will help Europe to accelerate this path by boosting investments in renewables, networks, storage and green hydrogen. This will also increase self-sufficiency, improve our competitiveness and create industrial development and jobs all over Europe.

"Increasing the 2030 EU share of renewable energy from 40% to 45% is a bold but achievable step, and the promise to speed up permitting procedures for renewables and grids is both welcome and necessary.

"The private sector is already doing its part, and we stand ready to make this plan a reality as quickly as member states can translate the proposals into clear policies backed by stable regulation across the EU."
All of this underscores the need for a Circular Economy. For example, in a truly circular economy, there would be no oligarchs or multi-billionaires - as money would be tracked - if being spent on property or goods without being tax paid somewhere in the world. It's not rocket science, Amazon tracks customer preferences using algorithms suitable for tracking money laundering, linked to land registries.
Excessive wealth encourages irresponsible spending, with nothing going back into the community. Billionaires such as Bill Gates and Warren Buffet, should be applauded for making a success of their endeavours, when compared to drug dealers and those profiteering from defense contracts via procurement fraud. There are of course other immoral earnings, but in the UK, as an example of the money laundering capital of the world, houses are being built for overseas investors, where there is a desperate need for local affordable houses. But the UK Parliament will not close those loopholes, because of party political donations and control of local authorities by the same Party taking those contributions.
Thus there is a house building boom in the UK going on while energy and other important security issues are taking a back seat. And those houses are not sustainable in design. No solar panels, solar water heating and no EV charging points.
Once billionaire status has been achieved, there should be additional checks and balances to ensure responsible investing and excessive profiteering.
REFERENCES
https://eur-lex.europa.eu/legal-content/EN/TXT/
https://ec.europa.eu/commission/presscorner/detail/
https://eur-lex.europa.eu/legal-content/EN/TXT/?uri=COM%3A2022%3A230%3AFIN&qid=1653033742483
https://ec.europa.eu/commission/presscorner/detail/en/ip_22_3131
https://www.enlit.world/policy-regulation/repowereu-mobilises-e300bn-to-end-russian-gas-dependence/
https://www.enlit.world/policy-regulation/repowereu-mobilises-e300bn-to-end-russian-gas-dependence/
Please use our A-Z to navigate this site where page links may lead to third party site not under our control, or see HOME