FUEL CELL i3 - JULY 2014 - TOYOTA FUEL CELL EXEC SAYS BMW WILL PLUG IN TOYOTA SMARTS FOR ITS FIRST FCEV PRODUCTION CAR

BMW will use Toyota fuel cell technology when it launches its first FCEV - a hydrogen-fuelled version of its i3 by 2016 - as part of the two car-makers' technical partnership.

Although he did not specifically mention the i3 FCEV or its timing, that's the clear message received from Toyota USA's advanced vehicle boss, Craig Scott.

Speaking to motoring.com.au during a recent visit to the US, the Torrance California (USA) based National Manager Advanced Technology Vehicles intimated strongly that BMW would leverage Toyota technology in a fuel cell version of the new-generation i car.

Answering questions regarding the rollout of fuel cell vehicles into the Californian and US markets, Scott stated: "We have a joint partnership with BMW, so we know... where they're headed.

"It's a technology development program where we are supposed to be jointly developing a fuel cell powertrain," Scott explained.

"I'll just say that BMW had a lot of choices – there are a lot of people who make fuel cells – and we're very happy they chose us. [But] They've never made a fuel cell before, so this is going to be a good experience, I think, for them and probably for us.

"How much joint is involved I'm not sure. But, you know, I think both companies have a lot to learn from each other."

When questioned on whether BMW would take a 'plug and play' approach with Toyota's series-production fuel cell technology in a fuel cell version of the i3, Scott suggested crash test regulations would play the biggest part of the integration program.

"It's just going to come down to meeting crash [testing requirements]... So they're going to have to find a way to package it [Toyota's fuel cell stack in the i3] such that they can meet [safety regulations].

"If there were no regulations, per se, then you would put it anywhere you like. But... there would probably be some reinforcement of the chassis, for some parts, to make sure that there's no infringement during a high-speed accident. The same thing for the [hydrogen] tanks," he stated.

BMW has previously produced vehicles powered by hydrogen-fuelled internal combustion engines, but the i3-based fuel cell electric vehicle will be the German car-maker's first FCEV.

Toyota's first production fuel cell vehicle will next year go on sale in Germany, the UK and US, where it will cost $US69,000 ($A73,640). It will also be sold in Japan, where Toyota has announced a 7 million Yen ($A73,100) price tag.

Toyota sources this week told US media outlet Bloomberg that the company was reviewing the naming of its fuel cell vehicle.

To date the fuel cell sedan, which we drove in Japan last year has been referred to as the FCV, but now 'Mirai' has been floated as a name.

Mirai, says Bloomberg, is the Japanese word for future.

Whether it's called FCV or Mirai, Scott says the company is keen to 'sell' the normalcy of the three-box sedan's day to day use. Indeed, appealing to the conventional is one of the reasons the new car is packaged as a sedan.

It's also why, in spite of the futuristic external touches, the cabin and controls are little different from other Toyotas.

"The whole idea behind this for us is that we want to make it just like you're driving a Corolla or a Camry," Scott told motoring.com.au.

"We don't want you to feel any different, because, quite frankly, that's been a big issue with other sorts of technologies.

"So this car drives remarkably like [a conventional car]… It's [still] quite like an electric vehicle, but I think the handling is much more comparable to a gasoline vehicle -- especially this particular car because the centre of gravity is very low.

"We had it last week out at our proving grounds in Arizona... [and had] a really interesting time on our slalom course with it," he enthused.

Scott also revealed that Toyota plans to have at least three fuel cell models in production within the next decade but, regardless of how 'normal' its first FCV is to drive, Toyota Australia says it has no plans to sell it here.

Apart from fuel cell technology, Toyota and BMW are also collaborating on a sports car project, which as we've reported is expected to culminate in a replacement for BMW's Z4 roadster and a born-again Supra for Toyota.
AUTO EVOLUTION 22 MARCH 2016 - JAMES MAY ADMITS TO LIKING HYDROGEN CARS, OWNS A BMWi3

Back in 2014, James May was confessing to fancy the BMW i3, going as far as suggesting that he would buy the one with the Range Extender for fear of running out of electric juice.

Answering questions on Reddit's AMA (Ask Me Anything) event today, the British TV presenter let it slip that he already has a BMW i3 in his stable of motorcycles and Italian supercars, and other sources suggest that the little electric Bimmer is actually his daily driver around town.

When asked by a Redditor what his opinion on "how the car of the future will be powered" was, May answered that he fully supports hydrogen power and electric motors.

"I still like the hydrogen idea, but I can see that it's problematic. I have an electric car, a BMW i3. I think electric motors are great for cars, but electricity remains a bit elusive," James May said in one of its slightly less tongue-in-cheek answers.

As most of you know, the BMW i3 REx is not a plug-in hybrid per se, but an electric car, despite also using a two-cylinder borrowed from the BMW C650 GT maxi-scooter. The European version, which May apparently drives, has a range of about 320 km (200 miles) when the 22 kWh Li-ion battery and the 9-liter fuel tank are full. That should prove to be plenty for May to run around doing errands and harassing Dacia Sandero drivers into testing their cars.

It is interesting to note that the i3 is probably the greenest vehicle in the presenter's stable since he is also known to drive the last Ferrari 458 Speciale ever built, a not-exactly tree-hugging 1971 Rolls-Royce Corniche and a number of motorcycles.

Despite having an extra engine, the BMW i3 REx is slower than its non-REx version, since the two-cylinder isn't sending any power toward the wheels but only works as a generator. We guess that doesn't really matter to someone known to be called "Captain Slow" and who is also suffering from range anxiety despite liking electric cars. Maybe if BMW goes ahead with its hydrogen plans, May could be in line for a fuel cell vehicle from the Munich-based carmaker.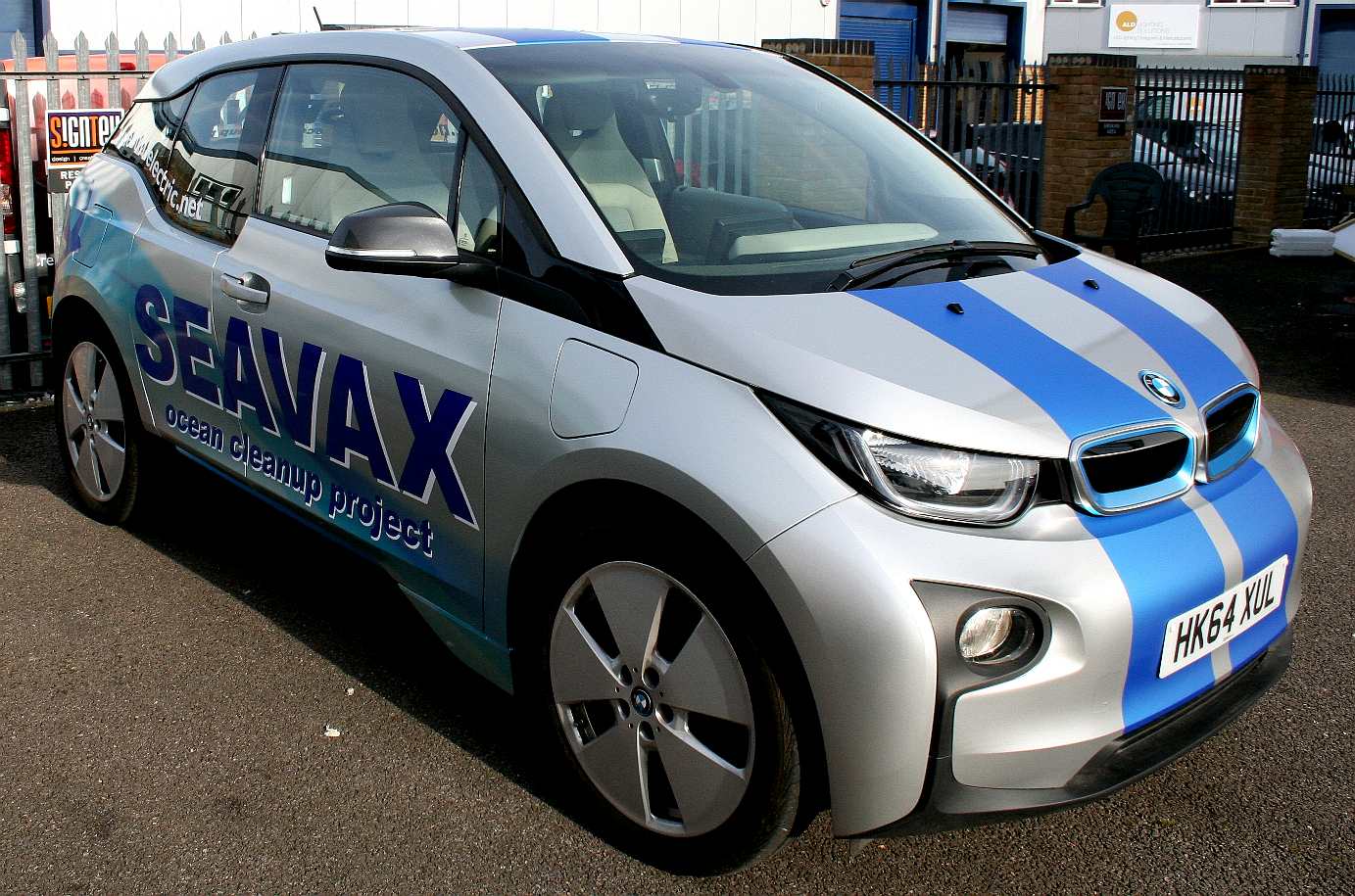 At the moment this vehicle is for the motoring elite. But could a methanol fuel cell conversion change all that? COF Ltd is looking for development partners and grant and/or other funding to make this happen. Alternatively, this could be a JVH2 entry - as a converted production battery electric vehicle. The onboard IC engine could also be converted to run on methanol. Ordinary fuel pumps at regular service stations, could change to supply methanol without too much effort.
REFERENCE LINKS
https://www.autoevolution.com/news/james-may-admits-to-like-hydrogen-cars-owns-a-bmw-i3-105793.html
https://www.carsales.com.au/editorial/details/bmw-planning-i3-fuel-cell-with-toyota-help-45082/
https://www.motornature.com/2014/08/could-that-be-a-bmw-i3-with-a-fuel-cell/

Please use our A-Z INDEX to navigate this site
This website is provided on a free basis to promote zero emission transport from renewable energy in Europe and Internationally. Copyright © Universal Smart Batteries and Climate Change Trust 2022. Solar Studios, BN271RF, United Kingdom. The name SmartNet™ is a trademark.