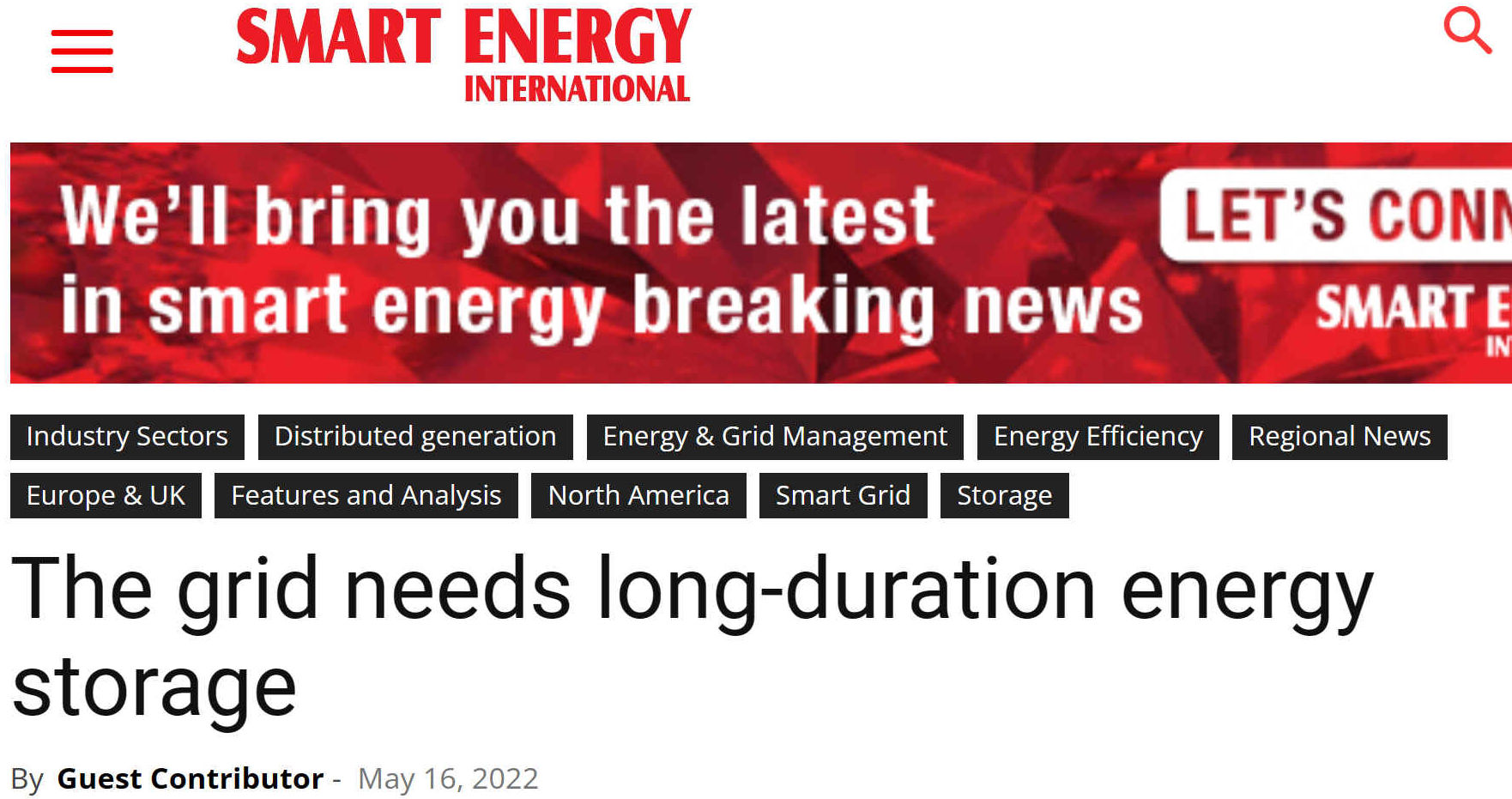 As Sherlock Holmes might say "elementary my dear Watson"
SMART ENERGY INTERNATIONAL 16 MAY 2022 - THE GRID NEEDS LONG DURATION ENERGY STORAGE

The pivot to renewable energy away from fossil fuels will help slash global carbon emissions — but it's likely to put significant strain on the grid, writes Emily Newton.

The most popular forms of renewable energy cannot flexibly increase or decrease production to meet demand like fossil fuel-fired power plants can. Supply is unable to meet demand in areas with major renewable energy development. The emergence of "duck curves," already happening in states like California, could become a problem in much of the country as renewable energy becomes more popular.

New, grid-scale battery projects may be the best available solution to this problem.

HOW RENEWABLE ENERGY HAS BEGUN TO STRAIN THE GRID

Governments worldwide have good reason to fast-track the transition to renewable energy — and accelerating the pivot from fossil fuels is possible with existing technology. However, to accelerate the adoption of renewable energy, grid operators will need to have a solution to its overproduction problem.

The most popular forms of renewable energy are, by nature, intermittent. Because power generation by solar or wind farms can vary significantly over time — and without regard to energy demand — the introduction of renewable power can cause significant grid strain.

One of the best-known examples of renewable energy's impact is California's "duck curve" problem. In the state, widespread adoption of renewable energy has caused the emergence of an unusual net load curve. At certain times of the year, this load curve drops significantly between the late morning and midafternoon before quickly ramping up toward peak consumption hours in the evening. The sharp changes in net load can strain grid infrastructure.

According to California Independent System Operator data, this curve has steadily become more pronounced since it first emerged in 2012. Projected net load curves suggest the problem will only become more intense without the right interventions.

Similar data from other regions that have built significant renewable energy production capacity — like Queensland, Australia — suggest these duck curves will become a global phenomenon as countries around the world transition from fossil fuels.

THE POTENTIAL OF LONG-DURATION ENERGY STORAGE

Grid operators may be able to manage these problems with renewable energy by adopting long-duration energy storage systems (ESS). Grid operators can integrate massive batteries or a CAES system to increase capacity to support the grid. Various energy storage strategies will likely be necessary as the world transitions from fossil fuel energy.

Many major manufacturers are also pioneering new technologies that may improve long-duration ESS or enable new strategies. Honeywell announced last year that it had developed a new flow battery for long-duration ESS. It can store and discharge electricity for durations up to 12 hours.

According to the company, American electric power company Duke Energy will test the new battery in a 400kWh system configuration in 2022. If this test is successful, it hopes to scale up to a 60MWh pilot project the following year.

Flow batteries improve on other types of batteries by increasing the size of electrolyte storage tanks. They are intended for heavy use over time and are designed for a 20-year expected life span.

Government initiatives may also help spur innovation in long-duration ESS. The Department of Energy has secured $1.16 billion in funding for its Long Duration Storage Shot programme. This initiative aims to "reduce the cost of grid-scale energy storage by 90% for systems that deliver 10+ hours of duration within the decade."

Nongovernmental initiatives to improve ESS may provide additional support for businesses and researchers. In 2021, 25 companies launched the Long Duration Energy Storage Council to provide guidance to governments, grid operators and major power users on solutions.

HOW GRID OPERATORS ARE ALREADY USING LONG-DURATION ESS
Several grid-scale storage projects are already in the works worldwide. According to data from Wood-Mackenzie, the U.S. energy storage market installed 1,613MW/4,727MWh in the fourth quarter of 2021, breaking records for energy storage installation. The U.S. storage market also broke installation records the year before, in the fourth quarter of 2020.

Major existing grid-scale storage projects include the Victorian Big Battery in Australia, a 300MW/450MWh lithium-ion battery energy storage system (BESS), and the Moss Landing Energy Storage Facility in California. This operation expanded in late 2021 and is now a 400MW/1,600MWh storage system. These projects support grids undergoing a rapid shift from fossil fuels to renewable energy.

A DISTRIBUTED APPROACH TO LONG DURATION ENERGY STORAGE

In addition to large, centralised energy storage facilities, grid operators are also experimenting with distributed energy storage. It's not uncommon for renewable energy generation plants to be located in countries on the edge of the grid — where wind and solar resources are highly available. However, infrastructure is underdeveloped and has a limited capacity to support generation plants.

One solution to this problem would be to modernise or upgrade grid infrastructure near renewable energy generation plants, installing new substations or high-voltage transmission lines. However, this approach is often not economically feasible to manage peak periods that may outstrip grid capacity for just minutes a day.

This was the challenge faced by RTE, the transmission grid operator responsible for the operation and maintenance of the entire French high-voltage transmission system, the largest in Europe. Instead of upgrading grid infrastructure, RTE adopted a "market-neutral" storage approach. It used lithium-ion ESSs at three substations around the country to simultaneously store and release energy in response to fluctuating renewable power generation.

Deploying a network of ESS substations allows the grid operator to dynamically adjust power storage and release based on local renewable power production changes.

LONG-DURATION ENERGY STORAGE WILL SMOOTH THE RENEWABLE TRANSITION

The transition to renewable energy is accelerating worldwide. However, grid operators are beginning to struggle with unusual load curves that can emerge from this rapid adoption. Long-duration energy storage will likely be necessary to smooth out the duck curves that are beginning to develop in regions where renewable energy is expanding.

Various strategies for power storage exist. It's likely that a combination of large, centralised battery storage facilities and distributed ESSs will help grid operators manage the challenges that may come with renewable energy adoption.

By Emily Newton editor-in-chief of Revolutionized Magazine.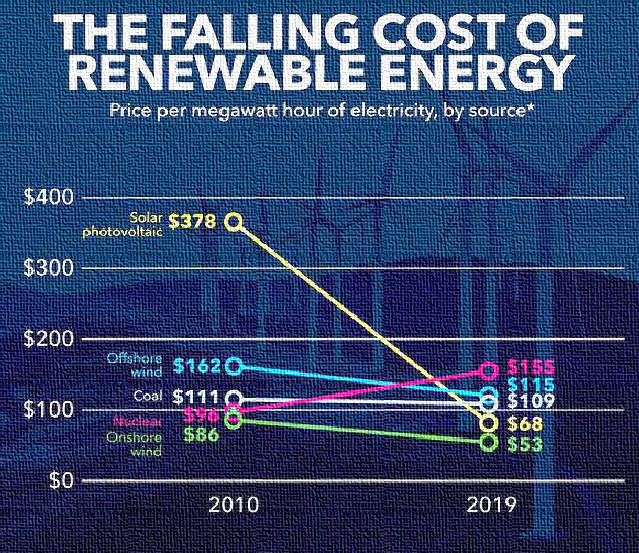 The cost of nuclear does not include the thousands of years containing and monitoring leaky radioactive waste

The world needs a mass produced, easy to install grid connectable energy storage system. Something, like the SmartNet system. Ignoring for now the dual use aspect as an EV charging station, but building that in as future proofing.
There are many solutions, but the industry has fought shy of R&D investment or experimentation, in favour of milking the existing fossil fuel based system, regardless of the need to transition as part of their climate change obligations.
Please use our A-Z to navigate this site where page links may lead to third party site not under our control, or return HOME
This website is provided on a free basis to promote zero emission transport from renewable energy in Europe and Internationally.
Copyright © Universal Smart Batteries and Climate Change Trust 2022. Solar Studios, BN271RF, United Kingdom. The name SmartNet™ is a trademark.